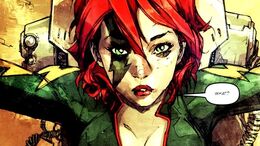 Velocity (Carin Taylor) is a redheaded teenager with very pale white skin. She has a bolt tattoo around her right eye. She is a member of the Cyberforce team and has the ability of super speed.
At one point, Carin became the host of the Angelus but was driven out by fellow Cyberforce team member Cyblade using her energy blade ability. Carin does not remember the incident, but was able to recall that something bad was about to happen.
Ad blocker interference detected!
Wikia is a free-to-use site that makes money from advertising. We have a modified experience for viewers using ad blockers

Wikia is not accessible if you've made further modifications. Remove the custom ad blocker rule(s) and the page will load as expected.