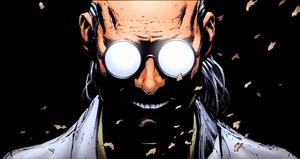 Professor Kirchner
was a mysterious and brilliant professor of chemical engineering who appears in
The Darkness
comics series.
Biography
Edit
Kirchner was involved in betting baseball and football games with crime families such as the Mattottis and the Ukrainians. Jackie Estacado was assigned to kill after he was unable to pay his baseball betting debts to local mobsters.
During their first encounter, Kirchner witnessed Jackie use The Darkness to kill members of the Mattotti crime family who were assaulting the building. With his last request he asked Jackie if he could study The Darkness to which Jackie agreed. With Kirchner's guidance, Jackie was able to refine his powers, create the Nightfall drug, take over Sierra Munoz, and create Elle.
Kirchner had intended to use The Darkness to wipe out Humanity. In so doing he betrayed Jackie and took Elle, leaving Jackie at the mercy of Sierra Munoz authorities. During Elle's pregnancy, Kirchner found and detonated the remote control C4 explosives on Jackie's vest. Kirchner was killed by The Darkness shortly after his birth.
Ad blocker interference detected!
Wikia is a free-to-use site that makes money from advertising. We have a modified experience for viewers using ad blockers

Wikia is not accessible if you've made further modifications. Remove the custom ad blocker rule(s) and the page will load as expected.